The Rt Hon Jacinda Ardern visited the Wise Group in Hamilton today learn more about the vital work it is leading in mental health, homelessness, social justice and wellbeing for young people.
Reducing child poverty and addressing homelessness are issues close to the Prime Minister's heart.
Alongside Wise Group joint chief executive Julie Nelson, the Prime Minister spent time with The People's Project's service manager Kerry Hawkes and strategic analyst Carole McMinn to learn about the success the team has had in Hamilton using the Housing First approach.
In the past four and a half years the team has supported 616 adults to move into permanent homes of their own.  When taking children and partners into consideration, The People's Project has worked with more than 1,000 people.
Using data to end homelessness
The Prime Minister learned about some of the world-first research The People's Project is undertaking in partnership with Otago University's He Kainga Oranga and the University of Waikato's National Institute of Demographic and Economic Analysis.
One strand of this research programme is Carole McMinn's PhD which she started this year. Her research will provide new information and understanding about pathways into homelessness for people living in Hamilton, which will also advance national knowledge about pathways into homelessness in New Zealand.
The entire joint research programme has the potential to influence evidence-based, cross-sector decision-making for social policy and systems design.
Wise Group joint chief executive Julie Nelson said The People's Project is committed to supporting research and evidence that will help better-understand the New Zealand picture, and after more than four years delivering Housing First services in Aotearoa, she said The People's Project had developed a wealth of knowledge, data and information.
"While there is a lot of international research, The People's Project's data and analysis is influencing the evidence-base in New Zealand so that we can build a more appropriate systems response for people experiencing homelessness here, and the Prime Minister is very interested in our work in this area."
Ms Nelson said to have the Prime Minister's undivided attention to discuss The People's Project was "absolutely stunning".
"It was a privilege to share first-hand the body of evidence we are building with our partners that is going to help us all work together to end homelessness so that it is rare, brief and non-recurring. The People's Project is right there leading some of this work in New Zealand through our unique data capabilities and research partnerships."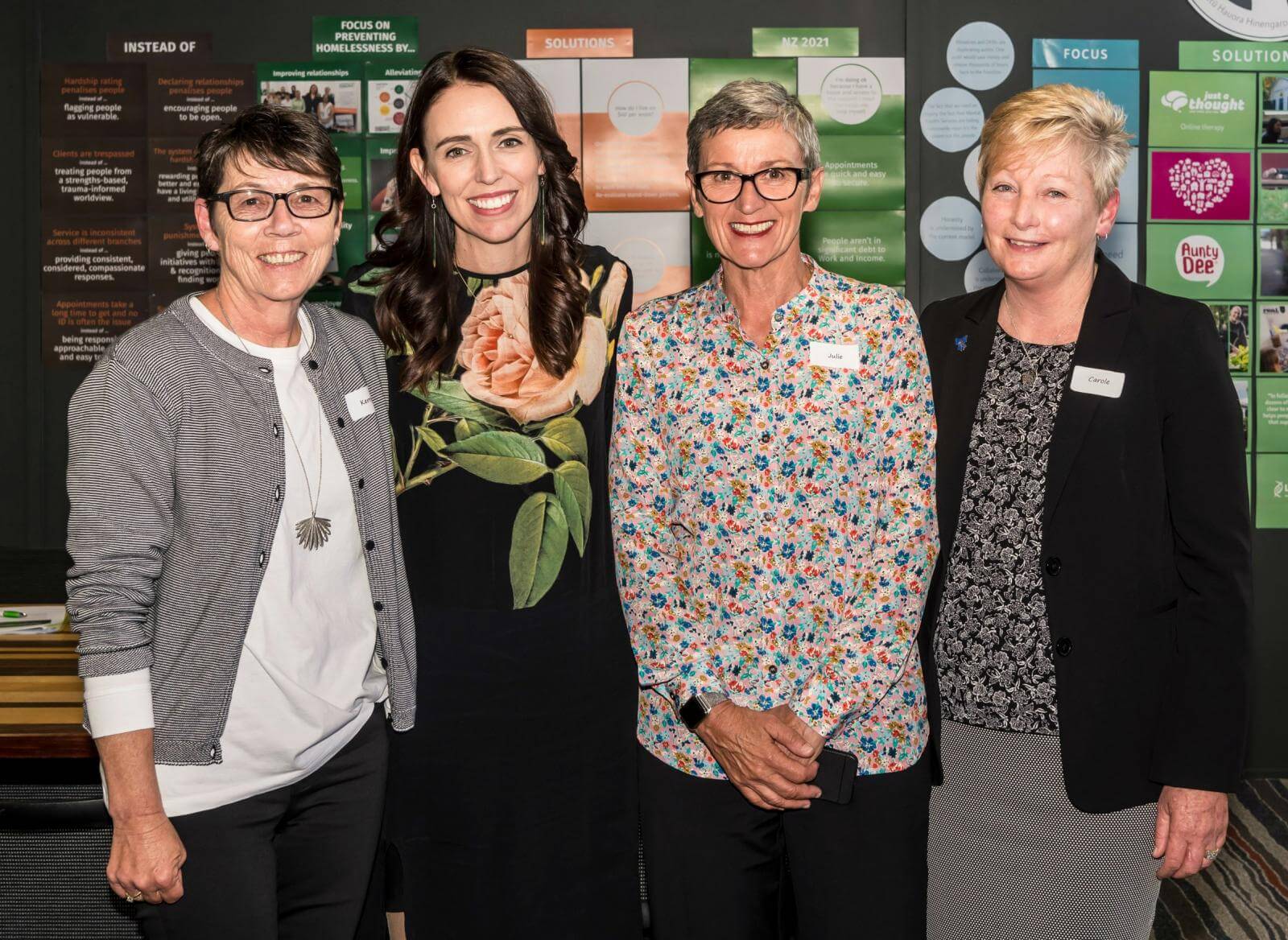 L- R: Kerry Hawkes, Rt Hon Jacinda Ardern, Julie Nelson and Carole McMinn