Housing first
What is The People's Project?
The People's Project was established in Hamilton in 2014 to address the public's concerns about the number of people who were living on the streets or sleeping rough in Hamilton.
The Wise Group recognised that homelessness is a complex issue that no single organisation has the ability to solve. A community-wide response was required, where key organisations could come together and work collaboratively to end people sleeping on the streets or sleeping rough in Hamilton – rather than manage it.
Hamilton City Council, New Zealand Police, Ministry of Social Development, Child, Youth and Family, Housing New Zealand, Department of Corrections, Waikato District Health Board, Midlands Health, Hamilton Central Business Association and Te Puni Kōkiri, put their hands up to join the Wise Group in a ground-breaking collective named 'The People's Project'.
This video by Hamilton City Council was made in 2015. It explains the Council's Central City Safety Plan and features the key partners in the plan's implementation and success, including The People's Project. In July 2016, the Central City Safety Plan won the Fulton Hogan Excellence Award for Community Engagement at the Local Government New Zealand Excellence Awards.
How does it work?
Following the lead of Canada, the United States, Europe and the United Kingdom, The People's Project adopted the successful Housing First model, which recognises that it is easier for people to address the issues that lead to homelessness, once they are housed.
Housing First grew out of the work of Sam Tsemberis, a clinical-community psychologist on the faculty of Columbia University Medical Center's psychiatry department. In 1992, Tsemberis founded Pathways to Housing, his idea being to give the chronically homeless a place to live, on a permanent basis, without making them pass any tests, attend programmes, or fill out forms, then work with them on the health care, therapy, counselling and more that they may need.
The premise was to treat homeless people as human beings and members of the community who have a basic right to a home and health care.
For The People's Project, the priority is to quickly move people into appropriate housing and immediately provide wrap-around services to address the issues that led to their homelessness. Services are co-ordinated from a centrally located office. This is not a drop-in centre for homeless people, but a central hub where the many different agencies working on The People's Project can come together. Our talented team of professionals, many of whom have experience in mental health and addiction, work directly with homeless people to connect them with accommodation, income, employment and other community support services they may need to help restore them to independent living.
Housing First model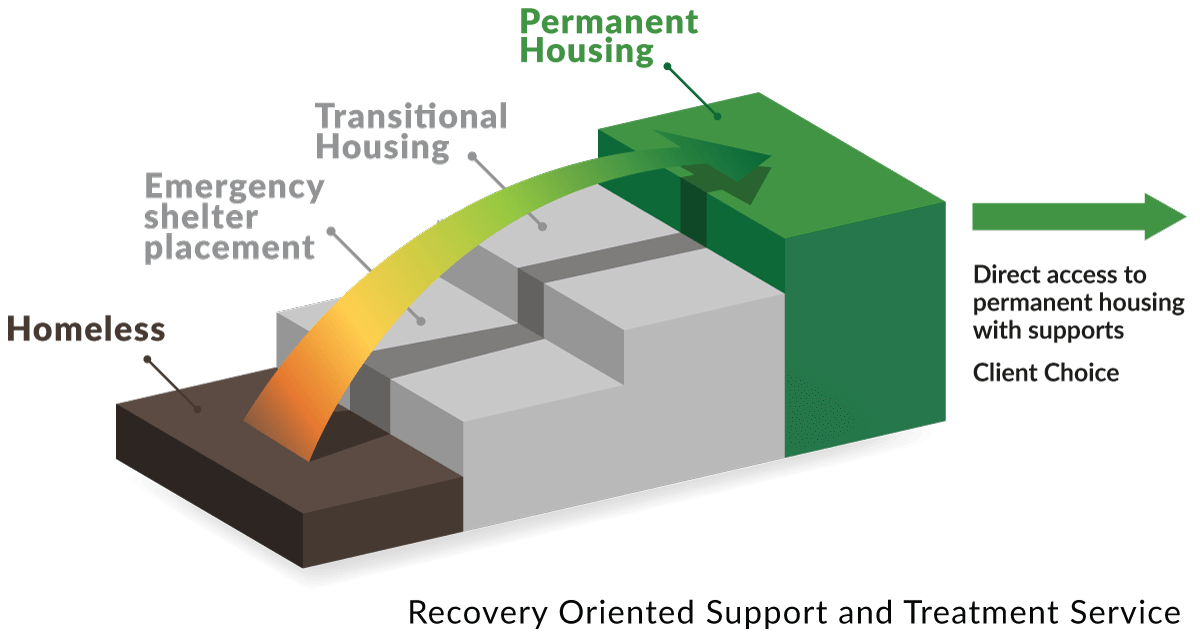 Reference: Sam Tsemberis, Founder, Pathways to Housing