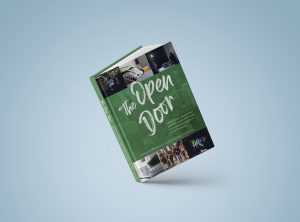 The People's Project (TPP) is delighted to celebrate the publication of The Open Door, a book about the first five years of the project in Hamilton.
A group of founding and current staff, TPP governance group members, Wise Group board members, partner agencies, supporters and book producers gathered at the TPP office space in Hamilton on Tuesday, 21 December 2021, to celebrate the launch of the book. It was also an occasion to remember the people involved with the book who have sadly passed away.
Written for TPP by local authors Denise Irvine and Venetia Sherson, with a foreword by Dr Sam Tsemberis, The Open Door captures the beginnings of TPP, and the journey so far to make homelessness rare, brief and non-recurring in Kirikiriroa Hamilton. It's the story of the challenges, the research, the impact of the work – and most of all, the people.
The People's Project founder, Julie Nelson, said the reason the book was written is because "it's a history worth writing."
"In ten or twenty year's time this will be how we work – when someone requires intervention, we will do that very early on and not wait for people to get into crisis," said Julie.
"We can be really proud of what's been achieved. We've started a movement that allows us to continue to push in to making a real difference in the landscape of homelessness in New Zealand."
Both Julie and TPP general manager, Kerry Hawkes, acknowledged the people and agencies who have been part of the journey so far, and authors Denise and Venetia for the respectful and caring approach they took to telling people's stories.
Recognition was also given to the "amazing staff" at TPP (past and present) who have so far helped over 1,000 people meet their housing needs and bring about sustained change.
"This is a real day of celebration," said Kerry. "The book is a beautiful reflection of the journey we've been on. Make no mistake, this is not easy work, and we have more ahead of us.
"Although we haven't ended homelessness by the end of 2016, we're still here, ending homelessness one person at a time."