Bridget Kelly
As Hamilton's rental prices rise, desperate families are turning to homeless advocates The People's Project for a home.
Numbers of families seeking assistance have been increasing since mid last year, said team leader Julie Nelson and Wise Group's Kerry Hawkes.
"We have perfectly ordinary people coming in because they can't find places," Nelson said. The People's Project, which was started to help Hamilton's long-term homeless, are seeing a huge cross section of people, from families, solo parents and even working couples who are struggling to find places, Hawkes said.
The biggest barriers these people face when trying to find a place are their past credit histories, a lack of references, or a history with the tenancy tribunal.
Real estate company Ray White has also noticed the increase, as Waikato rental prices rose 11 per cent last year. "Plenty of people can't find properties. You'll get 30-40 applicants for one property," said property manager Ben McKay.
Ray White has also had an increase in WINZ applicants, often struggling because of a hiccup in their past tenancies. "We work with private landlords so it's in our best interest to work with those who have a good tenancy history," said McKay.
Figures from Trade Me Property show the current cost of a threebedroom rental in Hamilton is $375.
Lack of good housing can also affect employment opportunities. "I do think getting people into employment is critical, but also finding a place to live," Nelson said. "It's hard to hold down a job without housing."
Hawkes said the problem also affects children,who may have to change schools for the parents to find a home. "Having to move kids from schools and kindergartens has a destabilising effect on families," she said.
The People's Project's multiagency approach, which includes Wise Group, means it often also works with organisations such as WINZ. Although its priority is housing, it also assists those in need of work, regularly referring people to Work Wise, which helps people with mental health conditions into work.
Only 5 per cent of homeless people are classed as chronically homeless—those who have been on the streets over a year—the other 95 per cent involve those in and out of shelter, people who are 'couch surfing', between homes or in overcrowded homes.
The People's Project has helped house nearly all of the estimated 80 chronically homeless in Hamilton, although people often struggle with the transition into a new community. "Some people we work with, they associate with people on the street but that isn't who they are," Nelson said.
A former homeless woman, who had been helped into a home by The People's Project, had been sleeping on and off the streets since she was four years old. "Some of us were neglected, no parents, no family. All we've got is each other and the kindness of the others out here," she said.
The People's Project was started in 2014, to help address the issues of people sleeping rough in Hamilton.
■ For help call 0800 437 348, or visit
The People's Project, at 24 Garden
Place.
■ Bridget Kelly is a journalism
student at Wintec.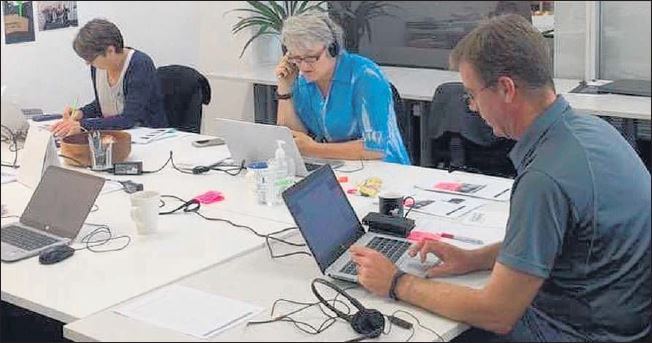 Kerry Hawkes Lisa Travaglia and Dave Stewart have noticed the increase in people needing help finding
homes.